The time of fascination with fashion, full shelves in stores and with availability of the well-known brands is now over. Thanks to the nineties and twenties, Poles managed to replace their grey wardrobes, and the last decade brought a flood of global brands that we could afford more and more often. However, that was not the only change on the Polish and global market.
Consumers' evironmental awareness keeps growing year after year. Available studies inform people of the fact that the manufacture of wearing apparel consumes huge amounts of resources and has a disastrous impact on the environment. The data and infographics demonstrate that to make one pair of jeans it takes from 3,000 even up to 10,000 litres of water and it releases about 20 kilos of carbon dioxide into the air. Moreover, the fashion industry itself anually uses as much as 79 billion cubic meters of water worldwide[1].

As many as 27 percent of Polish consumers declare they are ready to pay more for eco-friendly clothes. According to KPMG report "Rynek mody w Polsce. Wyzwania" (Fashion market in Poland. Challenges)[2], 41 percent of them will pay even up to 20 percent more, which is very interesting.
We have stopped repairing our clothes. Many of us buy them in chain stores and as soon as they are worn out, we simply get rid of them and buy new ones. Big brands' marketing supports such behaviour, introducing seasonal thinking into communication- every season brings new ideas, trends and colours. However, consumers behaviour in the past few years has proved that awareness of climate issues is becoming increasingly important in our choices, and this is undoubtedly reflected in two manufacturing segments: apparel and animal products. Representatives of the youngest generations – Gen Z and the Millennials in particular- declare, that they reduce meat consumption in favour of plant-based products and that they buy less and choose used products in general.
As many as 40 percent of Gen Z representatives and 30 percent of the Millennials confirm buying pre-owned clothes. 70 percent of them are women. What is more, as many as 82 percent of Gen Z representatives claim that if their financial standing requires it, buying used clothing will not be an issue for them[3].
Consumers from all over the world, when asked about where they will be buying clothes in the future, declare that they are willing to change their habits dramatically.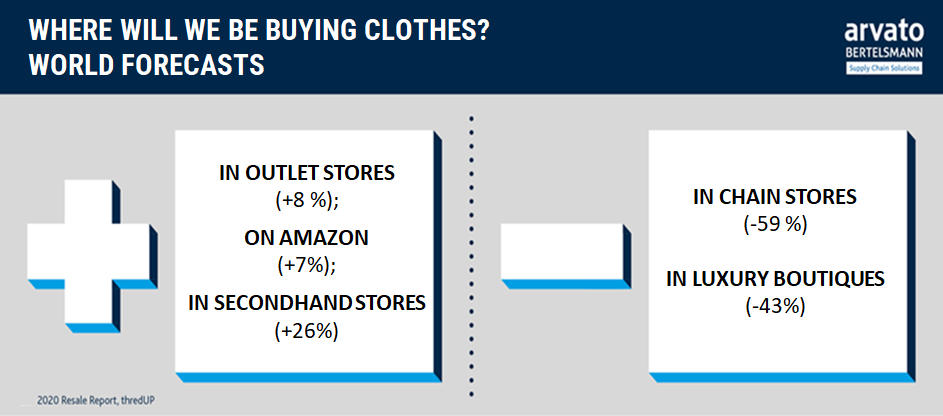 It is worth noting- following the mood map prepared by GlobalData Consumer Survey – that the consumers feel proud of buying used clothing and giving it "second life".
Buying used things is not a necessity coming from limited financial resources anymore, it becomes a sort of approach and ecological manifesto.
Giving clothes "second life", buying more expensive products but from local artists, sewing rooms, craftsmen and manufacturers, as well as clothing swap- have simply become fashionable.

Pre-owned clothing – brands behaviour
Big clothing chains have to face this reality and this kind of customers approach. They had to meet the youngest generations' expectations and show how they were going to prevent climate changes, being aware of the fact that such an attitude would undoubtedly attract new customers and make regular customers even more loyal.
Brands such as Patagonia have many devoted followers owing to the approach of the company that since the 1980s has been donating 1 percent of its income to nature preservation; since 1990s has been using organic cotton only, and for a couple of years now it has been putting emphasis on upcycling clothes from old collections, saying to its customers: "Buy Less, Demand More". Customers looking for clothes on their website, are able to be forwarded to a certain collection or to choose used, recycled clothes, at a lower price, of course.
Following the actions of smaller brands, the big clothing brands have started to highlight the manufacturing location (e.g. made in Poland), type of fabric (e.g. organic cotton),or non-animal origin of the product (e.g. vegan shoes). Also, they have started talking about working conditions of sewing factories' workers, sustainable production and supply chain, as well as selling in line with fair trade principles. Companies make sure that they hold the most important and world-wide recognised certifiations, such as e.g. Global Organic Textile Standard, FAIR TRADE, EcoLabel or IFOAM. Membership in organisations and associations, such as Fair Wear and many others, are significant too. Lately, they have also started to introduce collections of recycled clothing and accessories.
Pre-owned clothing – responsible fashion
Without a doubt, we should appreciate the actions and decisions of the great brands towards responsible fashion, despite the fact that- according to some consumers- they should be doing a lot more. One of such activities is shifting towards upcycling of clothes or providing online platforms where consumers can buy recycled clothing.
This trend did not come out of nowhere. Sharing economy model has been popular worldwide for over a decade. Borrow from your neighbour, rent a vehicle by the hour, don't throw it away – give it away – are just some of the slogans of this movement. AirBnB, BlablaCar, eBay and Allegro or OLX in Poland have had this model in place for years. New clothes and bag rental companies are emerging, also online. Additionally, more and more the so called "second-hand" stores are moving online, where they gain their popularity (e.g. Odessa Vintage, Mish-Mash Clothing or Inspired Sklep).
This trend has also been detected by the big labels. However, before they really started to sell recycled clothes, an online platform called Vinted appeared on the market. The mission of this Lithuanian company, established in 2008, is to "make second-hand fashion first choice". Vinted is just an online platform (and application) which enables people to sell and buy used clothing and accessories. At the moment, it unites a community of 37 million users in Europe and almost 4 million users in Poland.
One might say, that the model od selling second-hand products has existed in this world since 1990s – since the beginnings of Allegro. Well, yes and no. On Allegro we can buy everything: new, used, clothing, footwear but also cars, bike accessories, toys, household appliances. Allegro, however, is not followed by the consumer movement which informs you that through shopping from this online platform you protect our planet etc. Vinted attracted young people with and advertising campaign but also with their pricing policy: Vinted does not charge any fees for posting and selling, which means that the sellers always receive 100 percent of what they have earned. According to many experts, it is particularly this e-shop that convinced Polish people to sell their used clothing online and that additionally made it very easy [5].
Allegro however has not stopped being Poles' main choice. This platform still records 61 percent growth in revenue up to PLN 1.3 billion, and has 13 million buyers[7]. We can observe similiar situation in OLX case. The entire group belonging to Naspers increased sales revenue by 19.5 percent, to PLN 784.94 million and recorded an increase of net profit to PLN 293.29 million, with over 14 million users on OLX only[8].
At this point it is also worth recalling Facebook marketplace, which becomes another channel worth mentioning, where the users can buy used products, including clothing and accessories. Since 2017, we have had an opportunity to do such shopping also in Poland. Facebook keeps improving this platform by focusing more and more on direct product exchange between the users.
Responsible actions
Well-known brands undertake climate actions to acquire new customers and show the strength of their brands. In the recent years, we could list media reports, e.g. on IKEA chain that started providing furniture "buy back and resell" service; on Levi's brand SecondHand, where on a dedicated platform it offers the possibility of buying clothes for much lower price and encourages its customers to give away their unworn clothes in exchange for gift vouchers.
Even luxury brands, that have so far been criticised for destroying clothes from unsold collections, have taken up the challenge. The first brand that has followed eco- trend was Gucci starting the cooperation with The RealReal platform, where it could make available its clothes and accessories from previous collections as well as those worn and refreshed. Other fashion houses are slowly joining this group so on this platform we can already find, among others: Chanel, Céline, Hermès, Louis Vuitton, Christian Louboutin, Prada or Jimmy Choo.
Pre-owned clothing – interesting examples
In 2019, a world-class giant, the owner of the brands such as: H&M, COS, &Other Stories, Arket and Weekday, launched in Sweden a pilot program aiming at the possibility of selling worn clothes. They came up with this idea after the news of H&M burning tonnes of unsold clothing saw the light of day and tarnished their reputation. A few years ago, the group acquired 70 percent of the shares in Sellpy – an e-commerce platform dedicated to the sale of used clothes, and later on launched Resell platform, which enables customers to sell and buy used COS clothing.
In Poland, they promote a new trend of giving away used clothes to recycle them. You can do it in every shop. In exchange for this, the company offers discount vouchers for the future shopping.
The Group stood up to the challenge. In its latest "H&M Group Sustainability Performance Report 2020"[8] they declare, that: 64.5 percent of fabrics used in clothing manufacturing comes from responsible sources or is made of recycled materials; until 2030 they plan to use only recycled or sustainable products and are going to support their customers more and more when making informed decisions and buying used clothing through introducing programs such as COS Resell and Arket Rental for example.
In 2020, Zalando launched a new service called Pre-owned. It was already made available to Polish consumers at the end of October last year. Clients of this website can trade their pre-owned clothes and accessories, and then decide to either receive Zalando credit or have the money donated to charity partners (it is supported by foundations and associations such as, e.g. WeForest, Red Cross and many others). It is up to Zalando to send a pricing offer for a given product, and the money can only be spent on shopping on this platform, however – and this is worth noting – the risk of whether we succeed in selling our product is taken by the company.
A good example from our domestic market are actions taken by the LPP Group, which for the last few years has been consciously building a sustainable development strategy for the years 2020-2025, called "For People, For Our Planet". Apart from Eco Aware Production standard, setting out the company's requirements for factories in terms of reducing the consumption of natural resources or using packaging that is 100 percent recyclable (until 2025), the company has also been collecting used clothing, since 2018, which later on has been distributed to the people in need.
The clothes of the brands that are a part of the Group, e.g. Reserved, Mohito, Cropp or Sinsay, also have green Eco Aware labels which inform consumers that given product was made from recycled fibres by using, among other things, production waste, wood cellulose or bottles. More information on the group's eco-friendly activities can be found on: https://www.lppsa.com/wp-content/uploads/2018/02/LPP-Raport-Zintegrowany-2020-Online-PL.pdf. Environmental revolution – according to what the company's management states – is supposed to reduce the negative impact of clothing production on environment.
Interestingly, even the Auchan chain takes the topic of pre-owned clothes seriously. From their press release we find out that under " A new life by Auchan" project they introduce worn branded clothes into their offer (prices ranging between PLN 7 and 35). This project – according to the company's management – is the answer to the costumers' needs regarding "responsible clothing consumption and buying worn clothes from famous brands, at affordable prices".[9]
Pre-owned products logistics
What is very important – smooth running of the selling or swapping system of worn clothes requires perfectly developed and functioning supply chain. It is therefore essential to organise the entire process of collecting, quality checking, refreshing or repairing and finally, preparing the product to be resold (e.g. label, handtag) etc.
From one point of view, this process resembles the returns handling process, which is also divided into similar steps, i.e.: product quality check and then classification as: good, partly good – meaning that it requires for example- refreshing, labelling or packaging, or as a damaged product; next- carrying out additional activities- the so called VAS, starting from simple foil wrapping, labelling, through refreshing (e.g. footwear cleaning, pressing or even washing clothes) up to small repairs and – finally – allocating recycled products in a warehouse.
The difference however, will definitely lie in the product evaluation criteria. At the moment, in case a garment shows signs of use, it is classified as defective or the one to be disposed of. In case of working with pre-owned products however, determining the product's "wear" level and "standards" table will be vital, and this will require vast experience from logistics operators and their teams.
Used clothing market is booming. This situation is related also to the pandemic, which made people ask themselves important questions, like "what do I really need?", "don't I have too many things?", "how do my shopping and food choices affect the planet?", but it also put many people in a difficult financial situation. As a result of the above, buying pre-owned clothing has become convenient, useful, responsible and conscious.
Big corporations have also started to understand this, sensing that if they start to implement eco-friendly solutions, not only will they improve their image, but also the number of clients will increase and, most of all, they will start to generate more income. And it is already happening. 82 percent of web representatives believe, that selling pre-owned clothes is a way to increase revenue, and 58 percent- that it is the best way to communicate with young customers (Gen Z representatives).[10]
Further increases are expected in the years to come. And there is only one possible answer of the fashion industry to it: clothing upcycling, second-hand online platforms and other sustainable development actions.