Choosing a logistics operator is a strategic decision, part of a business development plan. It is often driven by the need to save costs, but increasingly also by the intention to scale the business and focus on core operations. Logistics processes, on the other hand, are entrusted to a competent partner.
The benefits of outsourcing logistics are also felt on other levels, which include not having to invest in, set up, adapt and equip modern warehouses. Logistics operators also handle inventory management, transport and fleet acquisition, which helps to free up capital and improve companies' cash flow, not to mention operational peace of mind about not having to focus on seasonal peaks and complex customer service. Undoubtedly, entrusting processes to an external partner should also improve productivity and the quality of both logistics operations and customer service, while also providing access to specialist knowledge.
By outsourcing logistics processes, companies can focus on growth, expansion, creation and streamlining their own sales processes, as well as on investing in the resources and capital needed to develop their competencies and build a competitive advantage in the market.
Steps to choosing a logistics operator
Entrusting logistics management to an external partner is a key decision in the development of a company, and is a process that should be divided into several steps. The first is to work internally to establish your needs. Estimate your volumes, preferably over the next 3–5 years (even though that's not easy in e-commerce), then consider where your products are delivered and any other criteria for selecting a partner, so that you can begin discussions with potential operators. It is not uncommon for companies to struggle to set clear criteria and collect all necessary data. After all, such criteria and data are the most important aspect of tender preparations, allowing you to compare offers in real terms. Companies often choose to outsource only a specific step of the supply chain management process, which is why it's worth precisely defining what you expect and what you're ready for at this step. Depending on how your company's internal processes are organized, this step may last from a few to several months, and future decisions may depend on its success.
The next phase is to create a list of operators who may meet your requirements and invite them to submit bids. At this step, it is most important to identify and assess your potential partner's experience in a given industry or segment: e-commerce, fashion, healthcare, beauty, high-tech, automotive, FMCG, or many others. Remember that the more precisely the tender documentation is prepared, the faster and smoother the process of selecting a contractor will go.
The third phase consists of discussions, arrangements and negotiations, all aimed at selecting the winning bidder. Both of these steps can take anywhere from a few weeks to six months – it all depends on the parties' availability and commitment and on the planned launch date of the project.
Implementation
The longest step is usually implementation, that is, the real work of getting the project up and running. It may include building and equipping a turnkey warehouse, integrating WMS and ERP systems, hiring (or taking over) employees and transferring warehouse stock. This phase cannot be estimated without knowing the specifics of a given project. In some projects, it may take a few to several months.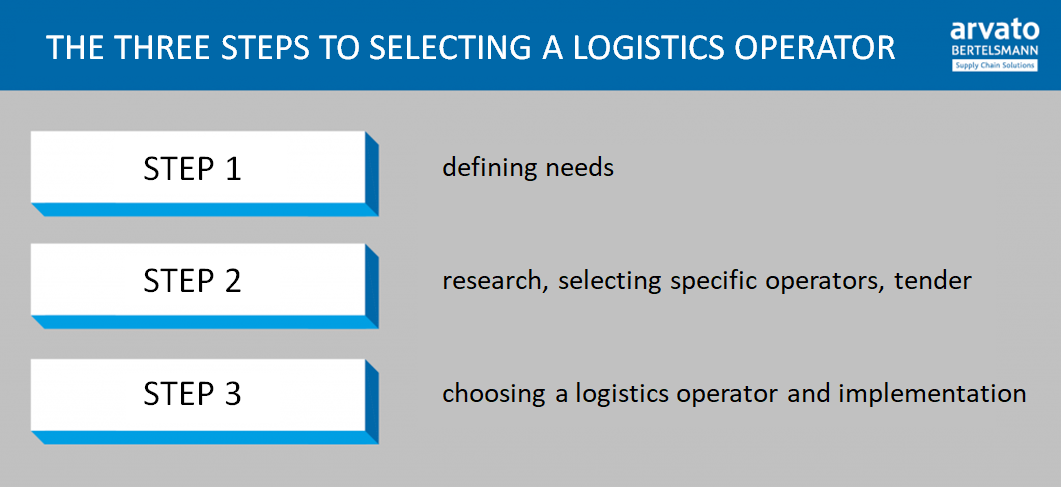 What to keep in mind when choosing a logistics operator
Your choice of logistics operator must be consistent with your company's short- and long-term objectives. After all, it is a long-term decision, and should, of course, be tailored to your company's needs and specific situation. You and your team must therefore precisely define the 'boundary conditions' at the outset that will determine the criteria for selecting your potential partner. Are you looking for an operator for Poland or one operating on a European or global scale? Where are their warehouses or transshipment centers located? And so on. However, there should be many more such areas to review.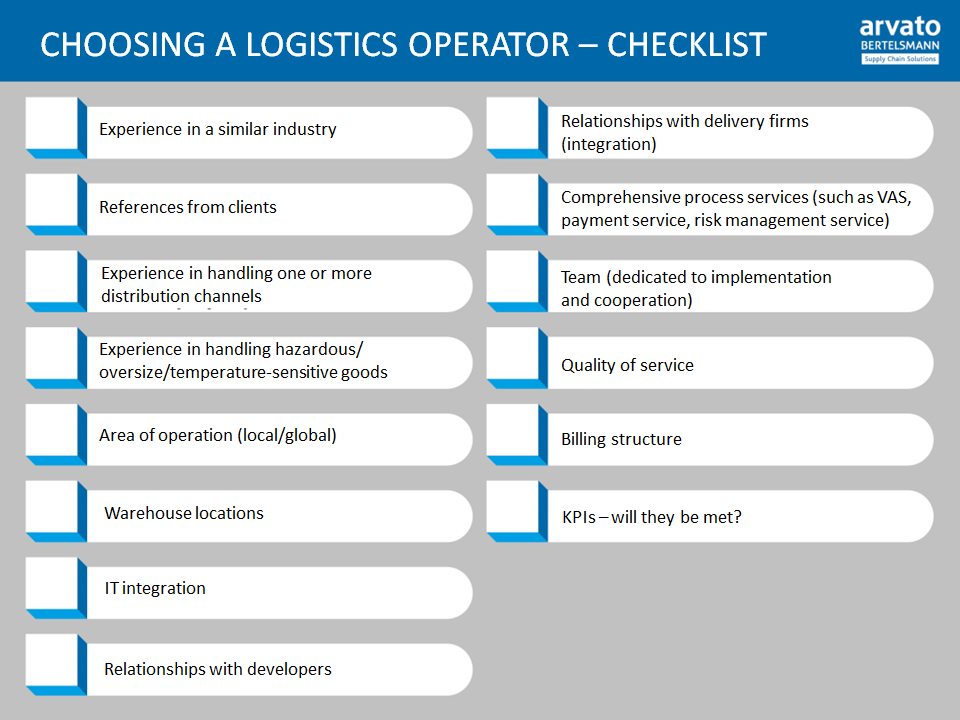 Experience of the logistics operator
The logistics operator should have experience in providing logistics services to companies in a similar sector or industry. Some would argue that that's not a 'must'. However, your partner's specialization may come in handy not only during day-to-day process management, but also especially when dealing with seasonal peaks and difficult situations. For example, the fashion industry has completely different expectations than FMCG. These include thousands of SKUs in stock, multiple shipping volumes, returns handling, multiple VAS options (such as repacking, ironing and refreshing). On the other hand, logistics service for the beauty industry should include the ability to manage stock using batch (lot) numbers and expiry dates and to store hazardous goods (aerosols) and perfumes (flammable liquids), often within a specific temperature range. These elements are just the tip of the iceberg regarding the requirements that your operator needs to meet. That's why it's so important for them to have experience gained from previous projects as well as knowledge on how best to secure your company's logistics and products.
References from clients
Without references, you're going in blind. You need to know what previous clients think of your potential partner, what they pay attention to, and what advantages and strengths they offer. Written references are one option; it's worth verifying by contacting those who regularly worked with the operator during previous projects and implementations. Pay attention to the feedback about how the relationship went and how their customer service was evaluated. In addition, note how low the thresholds for damage, theft or security of shipments were, how well their IT systems were integrated, and how quickly and flexibly the operator approached new expectations or created new solutions.
The logistics operator's experience in handling multiple channels
E-commerce, B2B service, and the simultaneous handling of all channels (multi/omnichannel) are all areas for review. A potential partner's experience in handling multiple channels will be important for you, whether you intend to entrust them with the entire logistics processes or just one channel. Of course, you can always expand the scope of cooperation. E-commerce logistics, which often involve huge volumes, time-sensitive operations and a high degree of seasonality (promotions and sales), is in fact completely different from traditional operations channels. It is also a challenge to stock brick-and-mortar shops properly, and to replenish stock several days a week. It would therefore be good for your potential partner to be proficient and have knowledge and experience in both areas, obviously confirmed by references.
Experience handling 'difficult goods'
Oversize items, hazardous goods, storage and transport of goods or medicines requiring specific temperatures, secure storage areas in warehouses – these are just some of the guidelines that you may present to the operator. Their experience and knowledge in fields such as healthcare or beauty, for instance, will be invaluable to you to help you ensure that all the conditions defined by your company and by the relevant regulations (Polish or European) are met.
Logistics operator's area of operation (local/global)
In theory, this is a simple issue. If you need logistics for Poland, choose an operator that operates in that area. However, for strategic reasons it's worth inquiring about your potential partner's European or global experience. After all, perhaps in a few months (especially in e-commerce, which is especially dynamic) or years your company will expand into neighboring markets and the operator will have to be 'left behind.' Remember that the choice of operator is a long-term strategic decision. That's why the operator's experience in foreign markets, handling of customs warehouses and knowledge of legislation and road transport regulations cannot be overestimated. This is especially true in CBEC (Cross Border E-Commerce). It is worth considering operators who operate globally and also have a branch or registered office in Poland.
Locations of the logistics operator's warehouses
The warehouses from which your products and goods will be shipped should be conveniently located – not only well connected with your company headquarters, but most importantly near major shipping hubs and transport routes. Reputable operators have excellent modern warehouses located in the most convenient and most promising regions in Poland and in Europe. They are located not only near motorways, but also near industrial and commercial centers and railway sidings.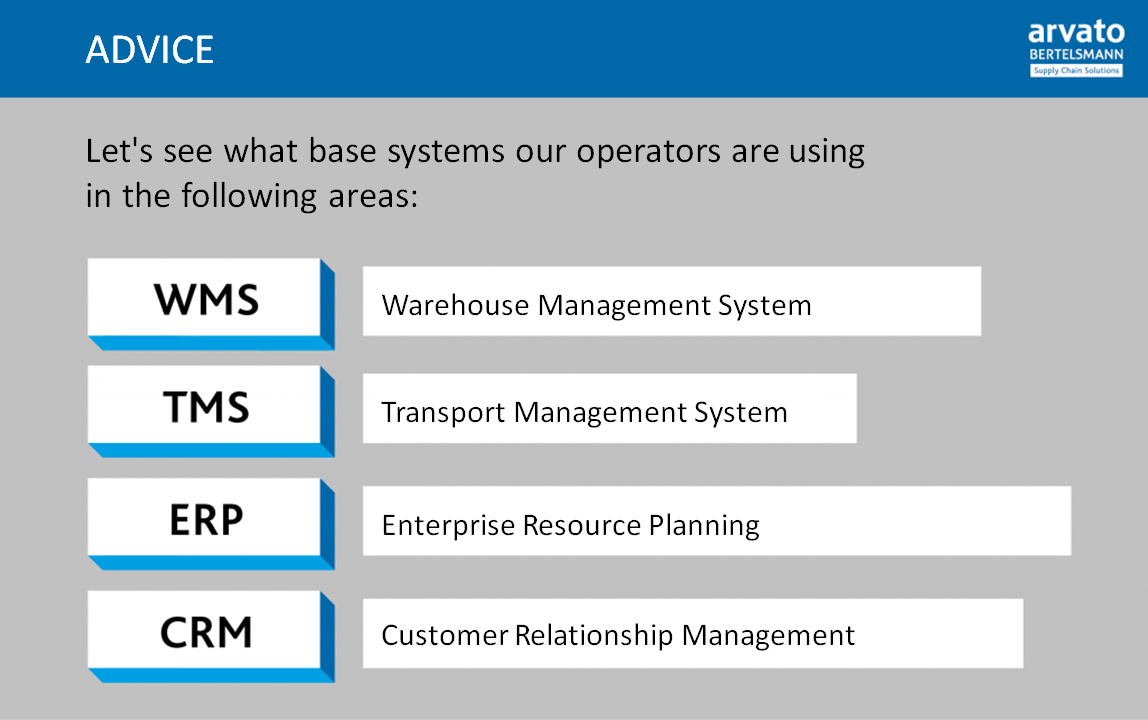 The IT integration process should run smoothly and should provide benefits and security for both parties. Above all, it should make optimum use of time, increase process control, shorten picking times and reduce the number of errors, while also automatically generating the necessary reports. It is worth checking whether the software will be customized for your needs, and whether it will be possible to add more interfaces or functionalities.
Relationships with developers
Effective relationships between operators and developers is crucial in choosing the right location, getting priority in renting a warehouse, the ability to customize the structure, and much more. On the Polish market, most warehouses are in the hands of the four largest players: Prologi, Panattoni, Segro, and GLP. Their warehouses are most often located in central Poland, near Warsaw, Łódź, Upper Silesia, Poznań, Szczecin, and the German border, but they are also increasingly considering smaller locations with great potential, such as Kalisz, Lublin, Rzeszów, and Częstochowa. The market is developing dynamically and is starting to exhibit increased fragmentation and to move to more niche locations. For us, an operator's experience in cooperating with the best developers should be a guarantee of stability, on-time performance and importantly, stable space rental costs.
Relationships with delivery firms (integration)
The delivery industry is one of the fastest-growing areas in the logistics sector. The development of e-commerce has forced the industry to grow dynamically and to invest not only in extensive sorting networks, but also in advanced IT systems and the development of multiple delivery methods. A logistics operator should work with a number of companies (at least three/four major players in the market) and should have ongoing contracts and relationships. This will allow you to provide your company and its customers not only with short delivery times (next-day or same-day delivery, weekend service, etc.), but also – and especially for B2B logistics – with the certainty that stocks will be replenished on a daily basis.
Comprehensive process management by the logistics operator
Additional services such as value-added-services, payment service and risk management services should set the right partner apart. Consumers' ever-changing expectations for the shopping process, multichannel service, personalization – these are just some of the elements that create the shopping experience, and value added services can undoubtedly be an asset to your company or brand. However, in order to offer them, you will need a logistics partner experienced in this area. So find out whether your operator offers rework services – that is, product adaptation (labeling, adding new labels, marking promotions, uploading new software, etc.) and product packaging and re-packaging (including co-packing and many others).
Find out what payment processing systems our provider supports and what risk management services it can provide us with.
Team (dedicated to implementation and cooperation)
You will work with the operator's team at many stages – from the tender process, to negotiations, to implementation and ongoing maintenance. Learn how the team is structured, what experience its managers have and what references and opinions back up their claims. Find out how big the dedicated team will be, how you will communicate with them and what kind of team you should put together on your end.
Quality of service
Your customer is the consumer on their computer or a more traditional channel, or perhaps a B2B partner or a shop. That's who is most important for you, which is why you need to be sure that the logistics operator, like you, is focused on providing the best service and the highest standards. You can learn a lot about your partner's approach from references from previous clients. It's worth finding out what procedures they have in place and how their employees are trained, for example in handling the product range, handling returns and customer service.
Billing structure
External logistics can optimize your company's costs. How should you adjust the pricing so that the whole process is as efficient and effective as possible? The cost assessment may be carried out in several ways, depending on things such as how the calculations are done (depending on the contract length considered), the pricing structure (open book vs. service/option billing) and the billing period (weekly, bi-weekly, monthly). Logistics costs include the costs of warehousing, handling incoming goods, shipments, returns, VAS and transport. In addition, the rental or construction and adaptation of the warehouse should be taken into account before implementing the project. Don't forget systems integration, security and monitoring, recruitment and staffing, and so on. In turn, after implementation, the monthly costs of maintaining and updating systems and equipment must be kept in mind. There are also costs associated with CIP (the Continuous Improvement Process).
In that case, you should also ask yourself whether your partner and their team's expertise is also a cost.  This is up to your individual judgement. It seems that there are as many contracts as there are billing models, so it is therefore difficult to speak of a single, standard format for projects from different industries and channels, and on different scales.
KPIs (Key Performance Indicators)
Measuring indicators is absolutely key to any project. There is crucially no one set of KPIs (Key Performance Indicators) for every project – especially in logistics. These should be driven by your strategic and business objectives. However, they will undoubtedly include the following: quality – i.e., correct order processing, productivity – understood as the number of goods sold/shipped in a defined time or the number of customers served, and timeliness – i.e., how many shipments were sent/delivered to the customer within a defined period. Other KPIs worth taking into account include the following:
– stocking the warehouse,
– compliance of warehouse stock,
– stock rotation,
– storage times,
– returns handling,
– lost or damaged products
– and many others.
Establishing and then reporting, measuring and monitoring key performance indicators is an important task for the project team overseeing the work of the chosen outsourcer.
***
Handing over supply chain operations to an external partner is not a simple decision. But now, with the rise of e-commerce, it is only right for companies and brands to focus on key business areas and on growth. Finding the right logistics operator is not an easy process; it takes a long time and sets the direction for years to come. That's why you should properly prepare for it – not only are you choosing the company you will work with, but you are also deciding how you will work.
The most important thing is to focus on quality, safety and mutual trust.