Since then, a number of projects have been launched with a focus on data, on improving data quality and on automatic processing to eliminate manual work. It is worth noting that working with the 'business' allows unique IT solutions to be developed.
Data analytics in Arvato – SEE MORE
This is the solution we used in the Controlling Department, where those responsible for 'month-end closing' can execute the data refreshing process themselves, which minimises IT support and does not overload the servers.
In order to increase our capabilities in the data area, a natural step is to migrate our solutions to the Azure cloud. We are currently working in an international project on this solution.
In 2020, Arvato Supply Chain Solutions began the transformation towards the introduction of the Agile methodology. Two products we are currently working on were launched in May 2021: Digital Solution and Arvato Data Centre (ADC). The former concerns the use of artificial intelligence (you can read about one of the solutions in Sławomir Grześkowiak's article here, while the latter is responsible for providing information to our stakeholders.
The ADC team creates an integrated central platform to provide rapid access to reliable data. It is worth mentioning that the team is diverse  and includes both IT staff and logistics analysts, so that we provide tailor-made solutions according to business needs.
We have so far been able to develop a solution to benchmark processes in our distribution centres and a reporting system for our customers. Sharing knowledge is very important at Arvato, which is why a community of analysts has been established to inspire each other on best practices, improvements and solutions.
Since 2021, we have been promoting and using the IBCS (International Business Communication Standard) standard for data presentation in the organisation. Based on it, we build consistent reports that are readable by everyone, e.g. we show transparently whether the target of a given KPI is met or not.
Our reports are characterised by minimalistic colours, which is important for the clear presentation of data. When opening such a report, we can immediately see whether the KPI's have been met (green colour). In addition, we do not have to think about the choice of colours in the report (time-saving), as their selection is determined by a standard. This makes the reports look very clear and easy to read, even for those seeing them for the first time.
As our reports are created in the PowerBI tool, we decided to use the ZebraBI component, which makes greatly facilitates our work on maintaining the IBCS standard. Finally, it is also worth mentioning that the ADC Team has developed a template for subsequent reports, so that we maintain colour consistency and the same format throughout the entire organisation.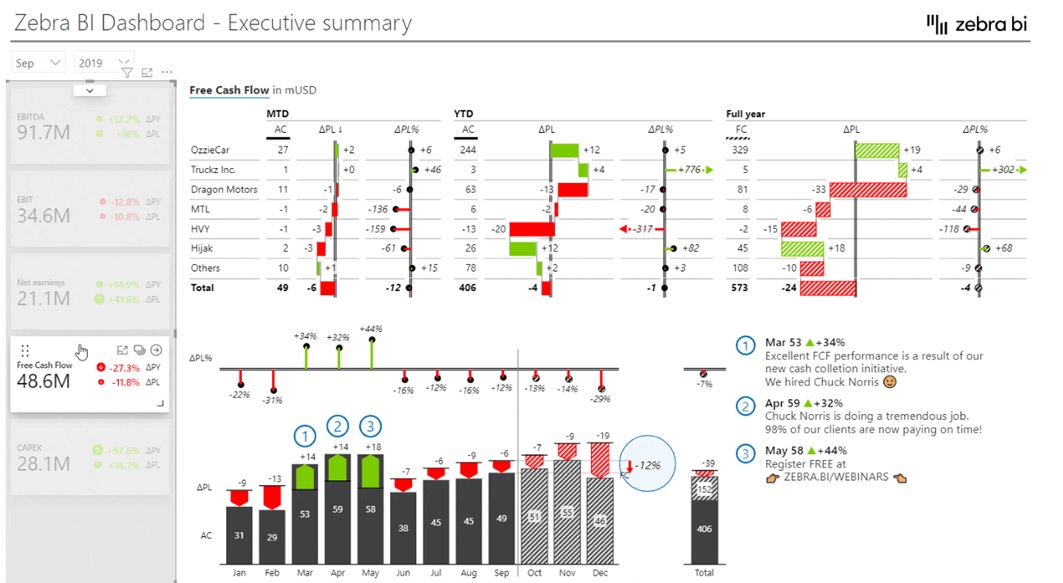 Source: https://zebrabi.com/zbi_blog/zebra-bi-presents-cards/
Additionally, we have started a project to implement Data Governance, i.e. policies and rules for data management. A number of the changes being implemented will ensure that we have high data quality, defined responsibility for data and also increase employee awareness of the role of information at Arvato SCS.