According to various studies – local, but also those conducted by international institutions – our country is among the top five (and certainly ten) best places to invest. This is confirmed, among others, by the Global Best to Invest ranking and the Financial Times report[2] . Not only is Poland a good place to invest, but – crucially – according to the UNCTAD Trade Agency, it is currently ranked fifth in terms of the value of new investments in Central and Eastern Europe – ahead of Romania, the Czech Republic, Slovakia and Hungary.[3]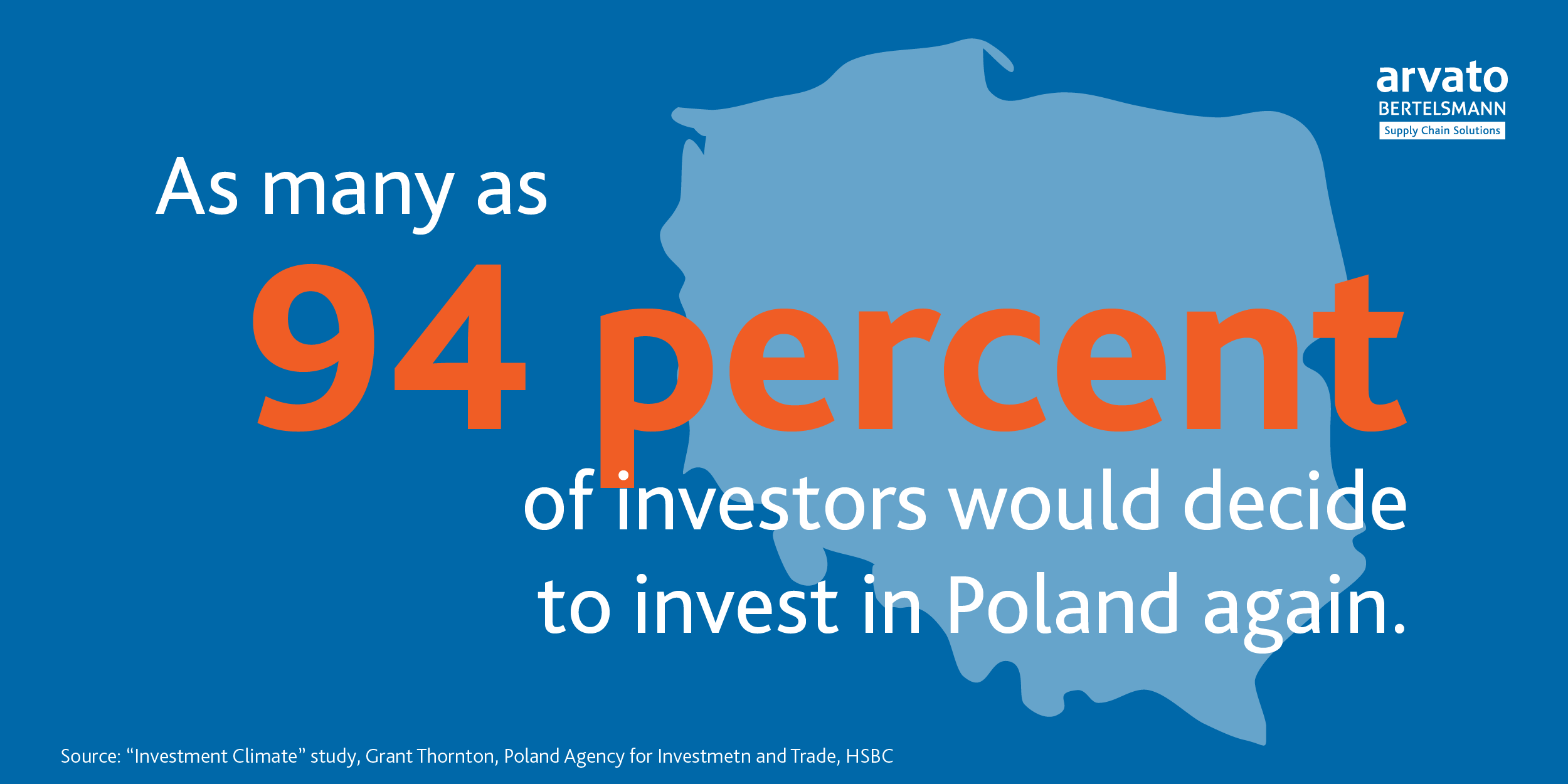 Roads, ports and rail network
Poland lies right in the middle of Europe – on the main trade route linking Europe with Asia. It is a leader in the region, not least because of its excellent road infrastructure, in which we have been continuously investing for 30 years.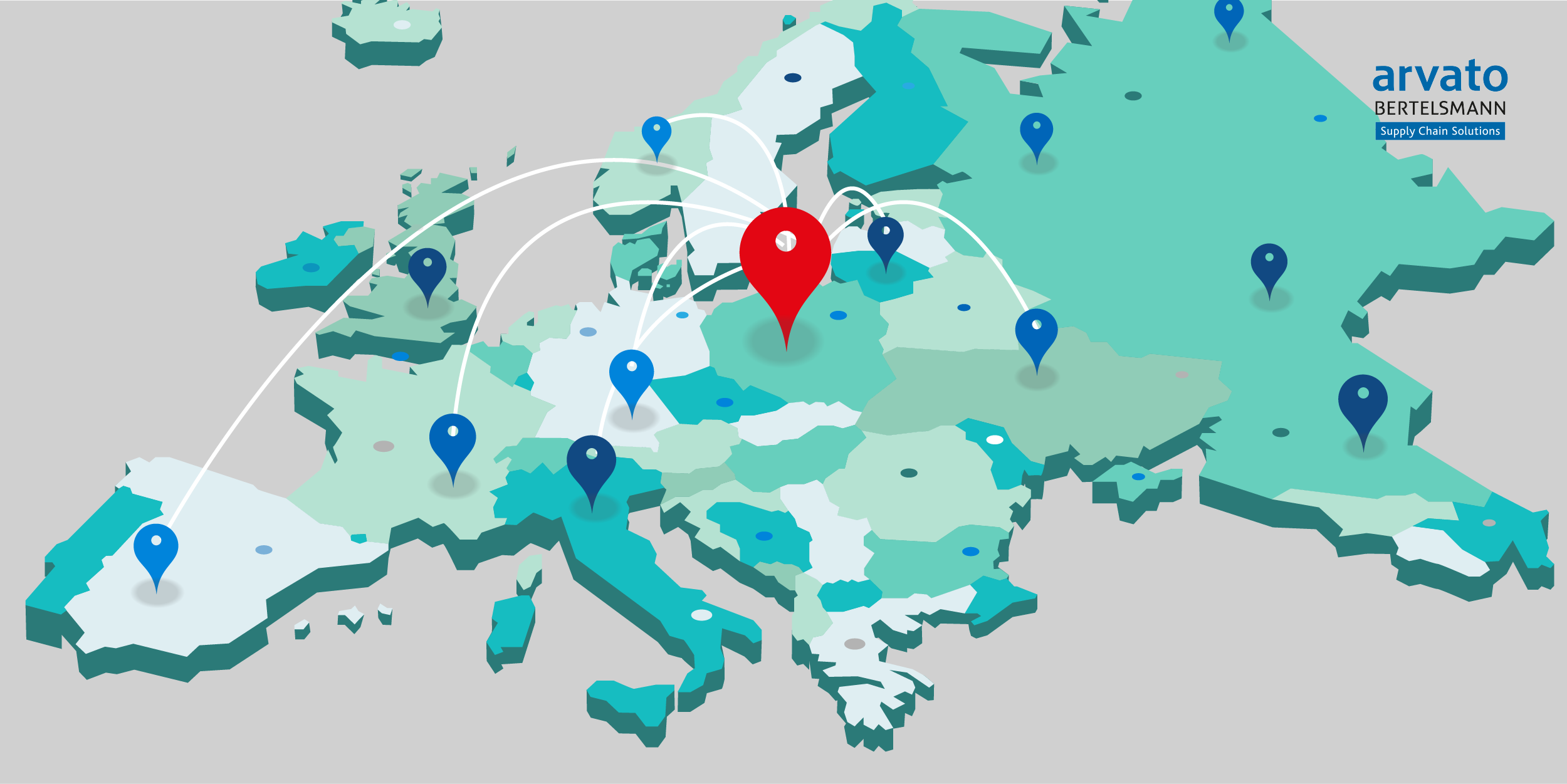 Roads
Poland is connected by a network of 4623 km of motorways and expressways, with an additional 3989 km under construction or in preparation[4] . The length of national roads, in turn, is more than 17 800 km[5] .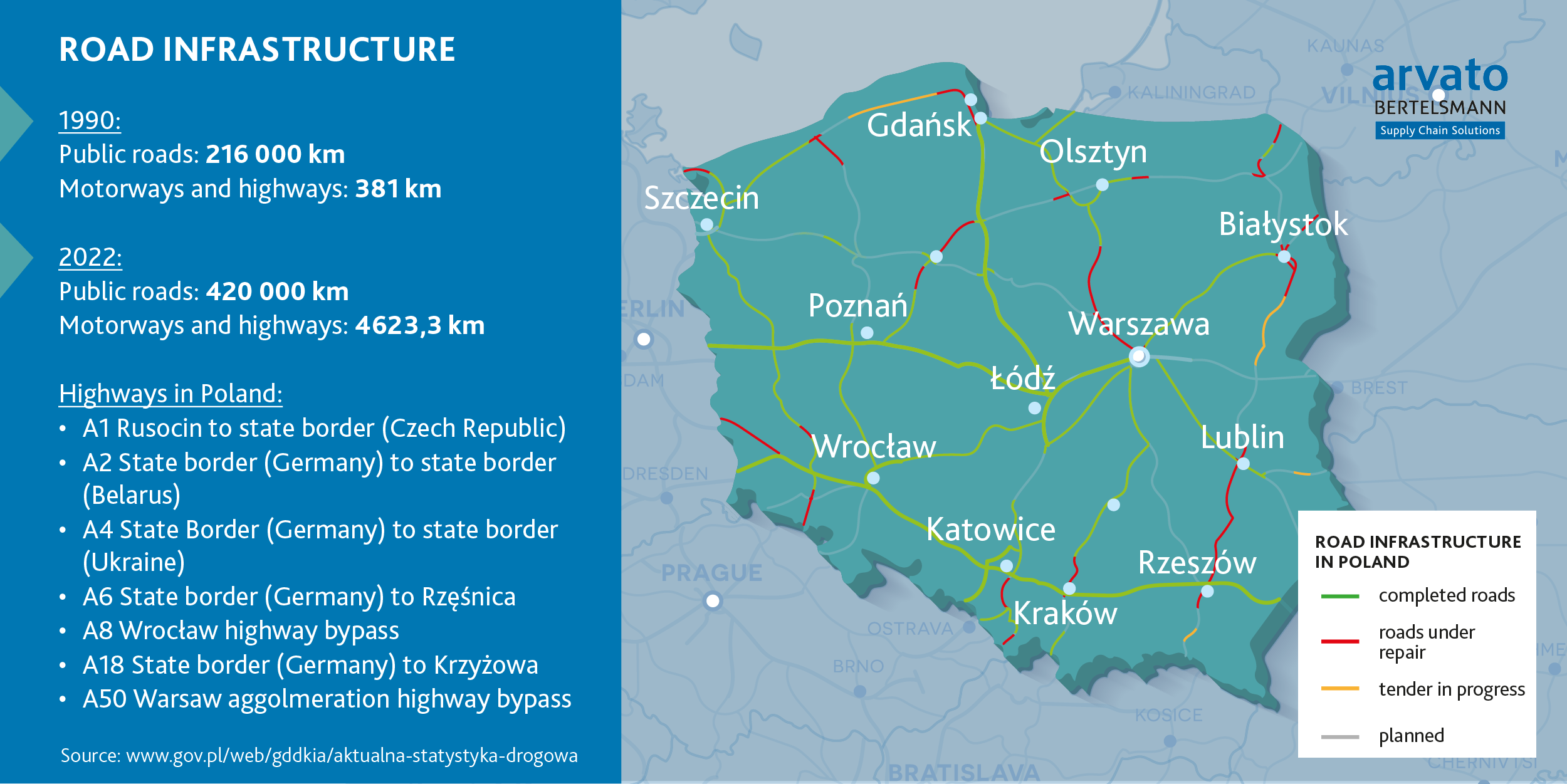 In the eighteen years since joining the European Union, Poland has increased the number of kilometres of roads eightfold. Five years after joining the EU, we have built as many high-speed roads as in the previous eighty years and, among other things, these investments have led us to be seen as an important, accessible and convenient country for logistics operations.[6]
Ports
The largest ports in Poland are the Port of Gdańsk, the Port of Gdynia and the Port of Szczecin-Świnoujście which together account for nearly 97 per cent of the turnover in our transport by sea. It is worth noting that in 2021 all Polish ports handled a total of 113.1 million tonnes of cargo[7] and increased the handling of intermodal units, which already amounted to 3.1 million TEUs[8].  And the Port of Gdansk has earned the title of the number one transhipment port in the Baltic Sea.
Further major investments are planned in the water transport sector. On 17 September 2019, the Council of Ministers adopted the Programme for the Development of Polish Sea Ports until 2030, which mentions two overarching objectives, which are "adjusting the service offer of seaports to changing market needs" and "creating a safe and environmentally friendly port system". The estimated cost of the entire programme will be over PLN 40 billion.[9]
Rail
Poland has 19,500 kilometres of railway lines[10] , with a further 1,258 kilometres of railways planned in connection with the construction of the Solidarity Transport Hub Poland (PL: Centralny Port Komunikacyjny) .[11]
According to figures published by the Office of Rail Transport, the Polish railway carried 243.6 million tonnes of freight last year, with payload-distance amounting to almost 56 billion tonne-kilometres.[12]
However, it should be noted that less than 30 percent of the units in our country are transported by rail.[13]
Transport companies
In Poland, 125,000 companies involved in road freight transport are registered, while over 750,000 people work in road transport.[14] According to the report "Road transport in Poland 2021+" – the share of Polish companies' freight work among EU countries has already reached over 21 percent.
A characteristic feature of our market is that the vast majority of transport companies have relatively new vehicles (trucks up to five years old) and, following the introduction of the 'Fit for 55' package by the European Commission, more than seventy percent are planning to invest in new vehicles over the next five years. [15]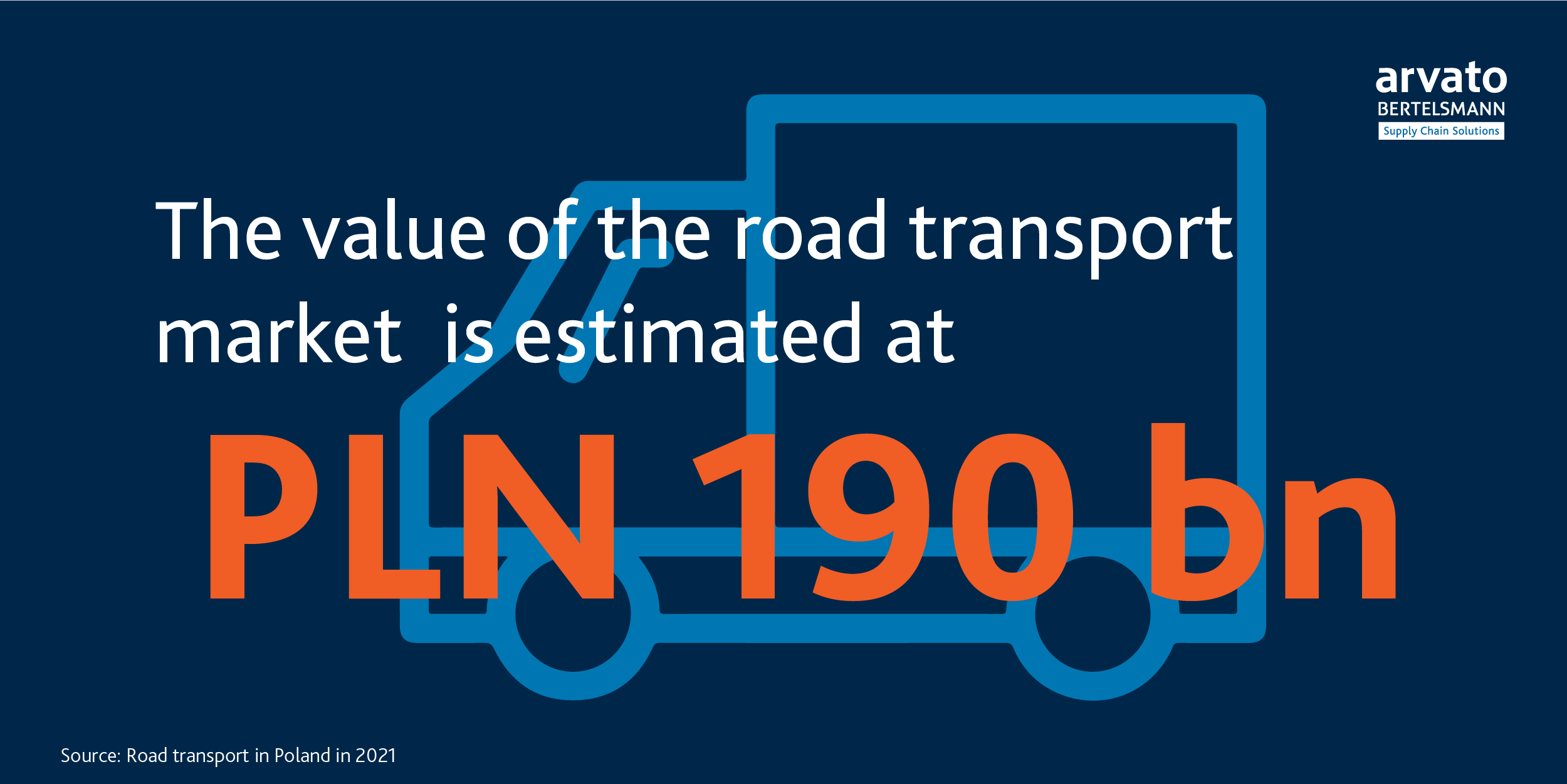 Fuel prices
Poland is among the top European countries with the lowest fuel prices, even after the recent increases. On 1 August this year, they were as follows: Euro 95: €1.55; Diesel: €1.60; LPG: €0.71[16] . Less expensive fuel was available only in Ukraine, Turkey, Malta, Moldova, Russia and Belarus. For comparison, fuel prices in our western neighbour Germany are as follows: Euro 95: €1.73; Diesel: €1.93 and LPG: €0.99.
Courier service market
The Polish courier service market is a significant component of the Polish economy, with a huge and growing potential, mainly due to the large number of companies and a developed network of collection points. According to Dun&Bradstreet, there are more than 7,500 entities registered in the courier services sector, and the number of courier companies has been growing at a double-digit pace over the last two years.
Both local and major international courier companies operate in Poland: DPD, DHL, FedEx, UPS or GLS. The parcel locker market is also growing strongly, led by InPost, which in 2021 owned 45 percent of all collection points in Poland.[17]
Various analyses say that in 2023 the value of the postal market will reach between PLN 12bn[18] and 16.2bn[19] with 850 million to more than one billion parcels handled annually.
Warehouse market
The Polish commercial property market has been very popular with foreign investors for many years. In Q1 2022, the volume of investment transactions was 18 percent higher year-on-year and amounted to as much as EUR 1.66 billion, and the most popular properties included logistics and warehouse centres (EUR 191 million)[20] .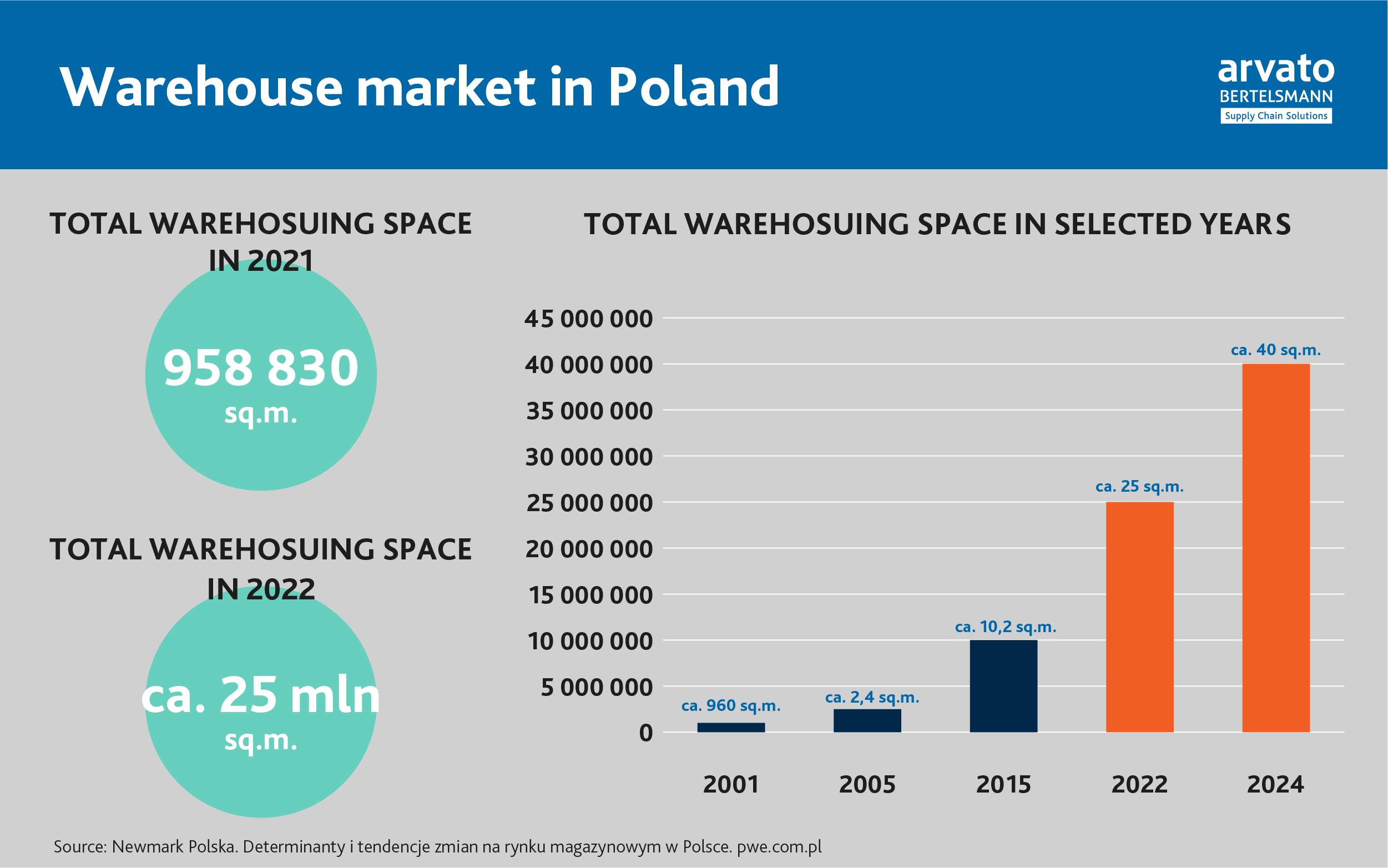 According to CBRE – at the end of the first quarter of this year, the total warehousing space in Poland stood at 24.7 million square metres, of which 3.5 million were facilities completed in 2021.
In the first quarter of 2022, a total of 1.31 million square metres of industrial and logistics space was put into use, with over 4.7 million square metres still under construction (almost double the figure for Q1 2021 ).[21] The most active markets in terms of new space supply were the Wielkopolskie and Dolnośląskie provinces, where 281.4 thousand and 216.95 thousand square metres were added, respectively[22] .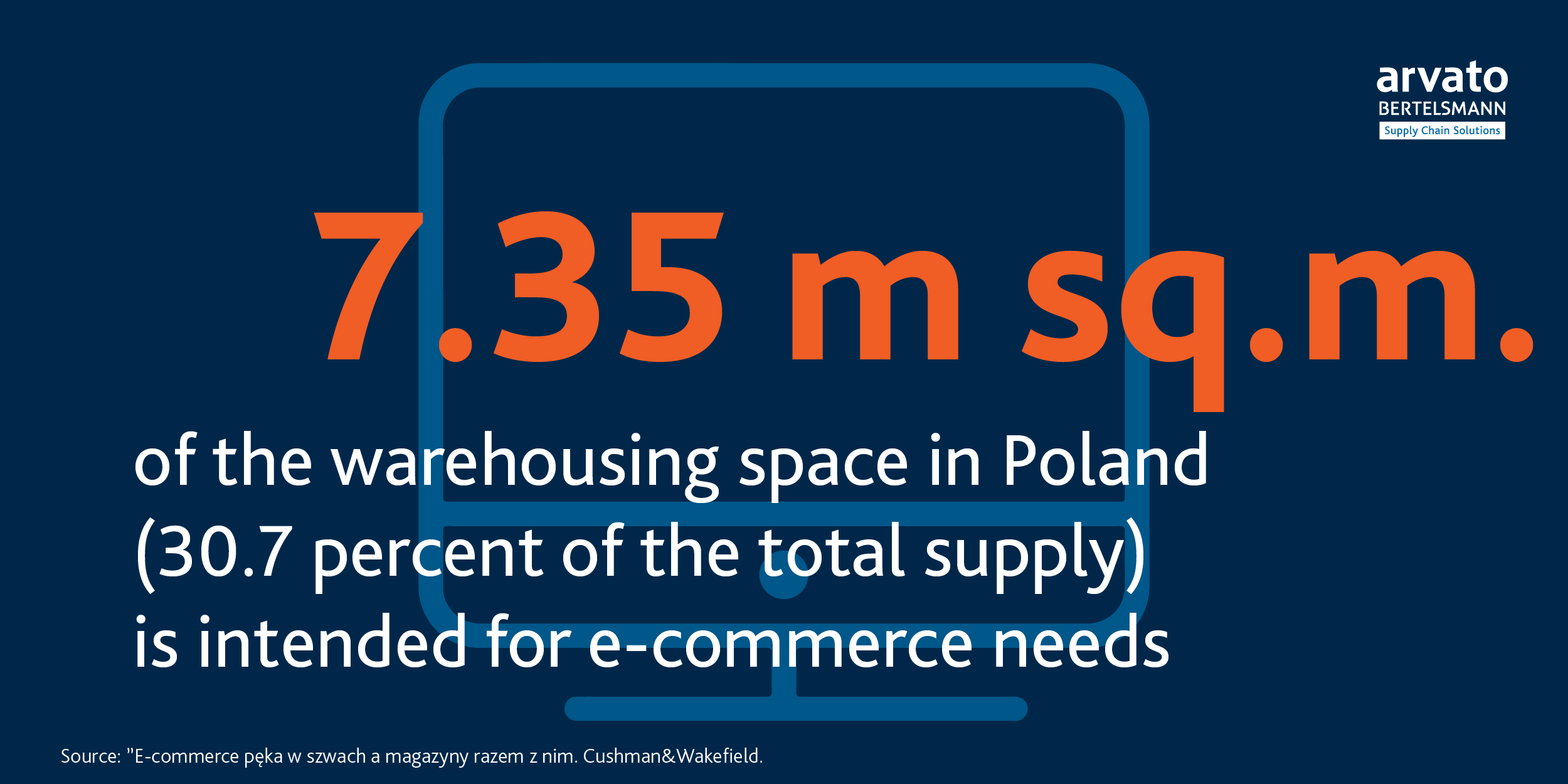 Currently, the largest number of warehouses is being built in Upper Silesia (over 900 thousand sq.m), Lower Silesia (725 thousand sq.m) and in the region of Warsaw and Central Poland (over 680 thousand sq.m each)[23] . The increased demand for warehouses in Poland, which also includes the region of eastern Poland, is related to the relocation of logistic centres of companies to our country from Russia and Belarus.[24]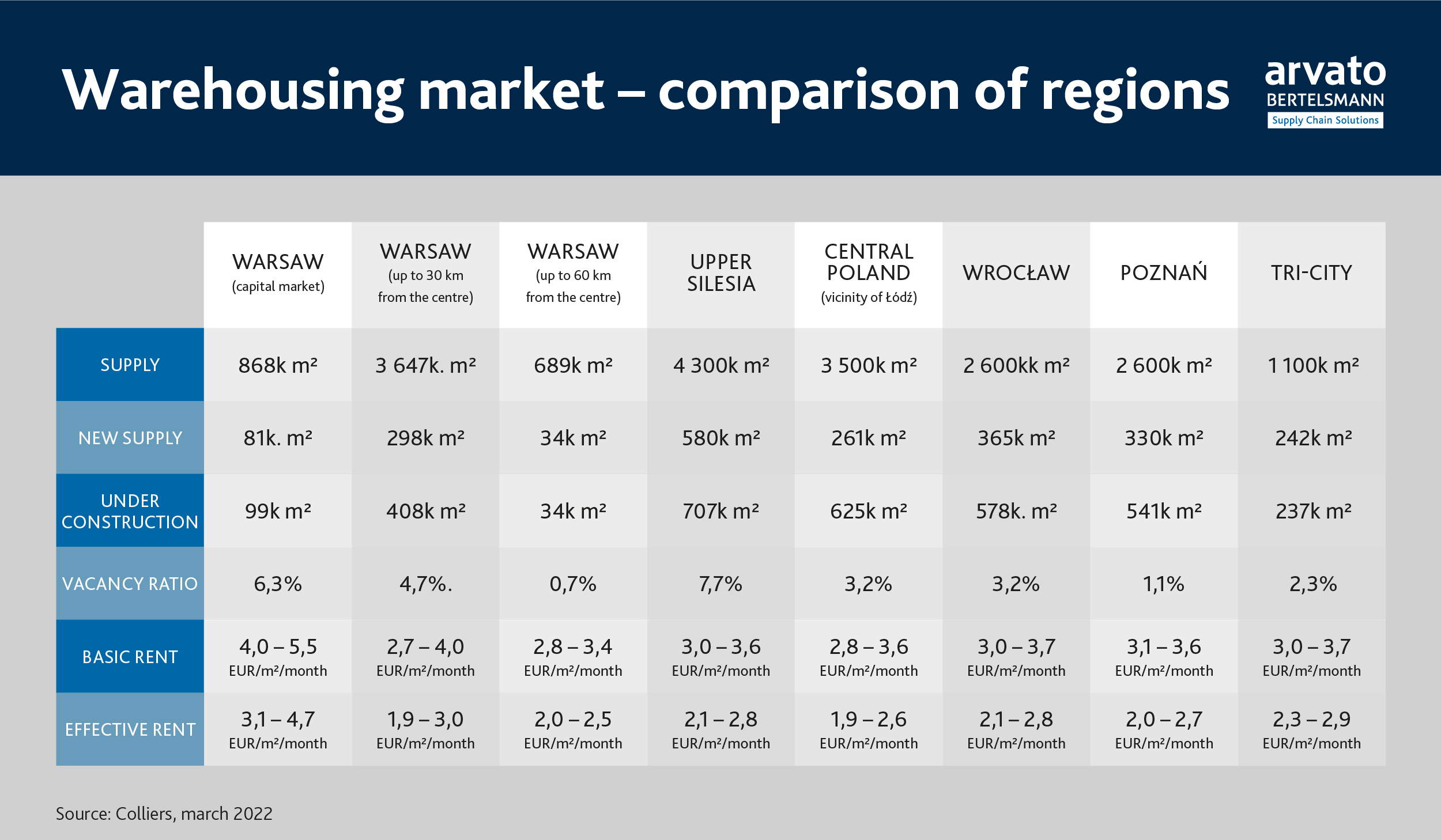 Until now, the majority of warehouses have been located in the vicinity of Warsaw, Łódź (central Poland), Poznań and Upper Silesia – mainly due to the best transport connections, motorways and highways, as well as the possibility of recruiting employees from the local labour market. However, for several years now, we have been observing relocation of warehouses also to other regions of Poland.
The regions with the highest percentage of available warehouse space include the Kujawsko-Pomorskie province (16% of available space), Szczecin (13% ) and the regions of eastern Poland (11%).[25] In addition, Western Poland, one of the youngest warehouse markets in Poland, is developing dynamically. Due to its proximity to the German border and good infrastructure it is a good solution for investors who are interested in the markets of Western Europe.
Western Poland
Warehouses in Western Poland (Lubuskie Province) are located mainly around Gorzów Wielkopolski, Świebodzin, Krosno Odrzańskie, Zielona Góra and Nowa Sól; and in Lower Silesia: around Legnica, Legnickie Pole and Bolesławiec. It is worth noting that the supply is rather dispersed and dictated by the accessibility and proximity of the most important roads and motorways (A4, A2, S3) rather than cities,  as well as the border crossings between Poland and Germany.
Szczecin
The proximity of the border and the Baltic Sea means that many companies are locating their warehouse facilities in the West Pomeranian region, around Szczecin, Goleniów, Kołbasków, Gryfino and Stargard Szczeciński. Modern warehouse centres are being developed there with good access to roads and maritime infrastructure.
Bydgoszcz and Toruń
Within the Kujawsko-Pomorskie Province with two capital cities, Toruń and Bydgoszcz, there are approximately 27,000 km of public roads and more than 1,200 km of railways.[26] Thanks to the A1 motorway, Toruń is becoming an increasingly important destination on the map of warehouse investments in Poland. The port of Gdańsk is only 170 kilometres away, the distance to Łódź is 183 kilometres and to Katowice 361 kilometres, while Bydgoszcz housing an airport has an air cargo terminal.
Eastern Poland
Eastern Poland comprises three provinces: Podlaskie, Lubelskie and Podkarpackie, which are interconnected by a road network with a total length of almost 85.4 thousand kilometres[27] . Most new warehouse investments are located in and around the provincial cities of Lublin, Rzeszów and Białystok.
According to Colliers, in 2022 there may be an increased demand for warehouse and production space in eastern Poland which experts attribute to the anticipated relocation of companies from Russia and Belarus to Poland[28]. The proximity of Warsaw, the A2 motorway and the border crossing in Kukuryki, as well as the network of expressways (S8, S12, S17 and S19), which provide a convenient connection with Lithuania and Ukraine, are only some of the advantages of this location.
The region will become increasingly popular over the next few years – not least because of the advancement in the execution of the Via Carpatia, ultimately the shortest road route that will connect countries on the north-south axis, that is Lithuania, Poland, Slovakia, Hungary and Bulgaria, Greece and Romania. In Poland, the most important part of Via Carpatia will be a section of the S19 expressway (approximately 580 km long) connecting Białystok and Rzeszów and passing through Lublin.
Rents
A slight increase in contractual rent values was observed in Q1 2022. According to estimates – for modern warehouse space, tenants can expect rents in the range between EUR 3.1 and EUR 4 per square metre per month.[29] However, rental prices are still attractive to investors, especially as warehouse space in Poland is among the newest in Europe.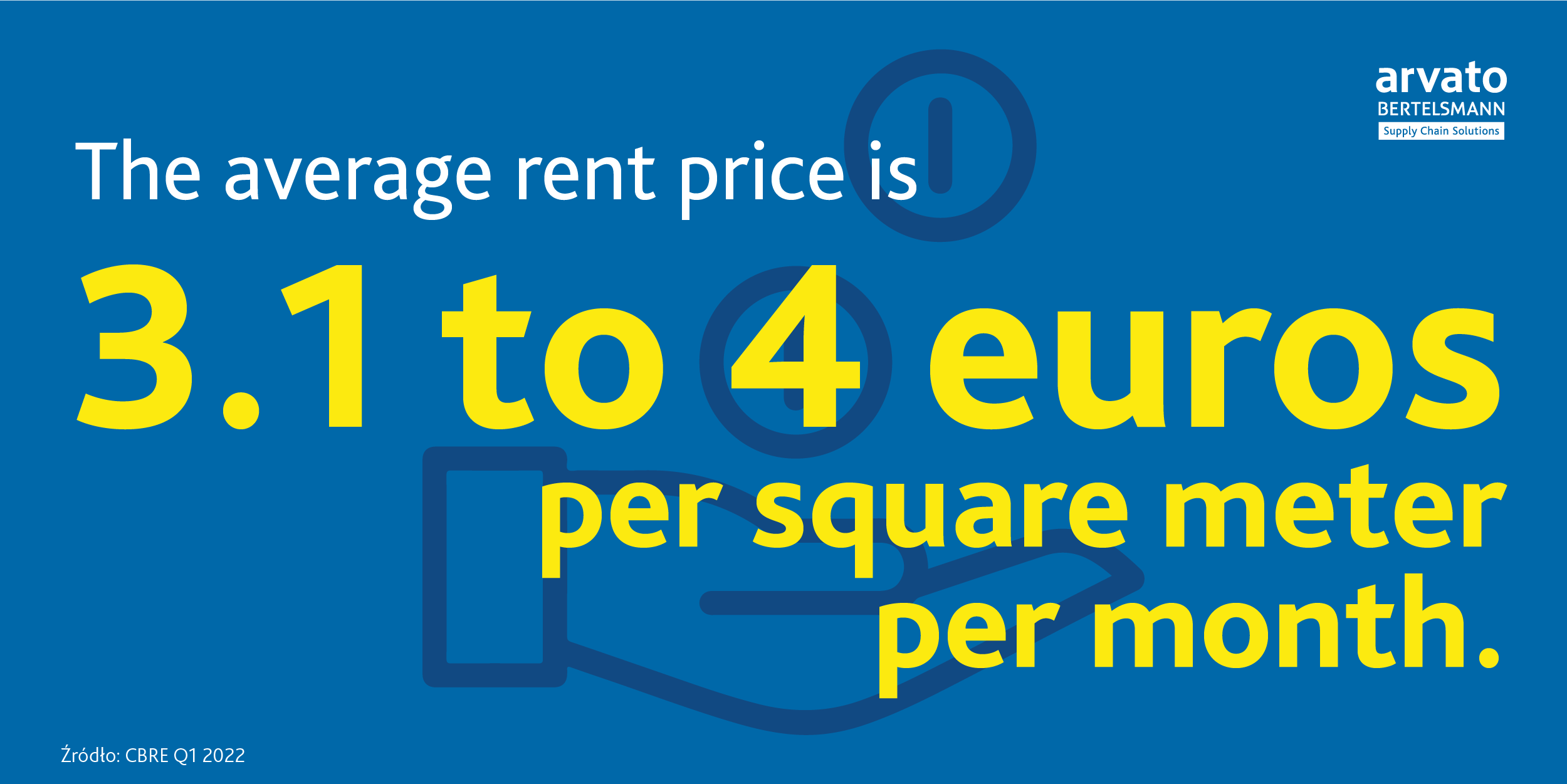 In Poland, commercial real estate is mostly in the hands of long-term owners. These include entities such as Prologis, Segro, CTP and GLP, as well as investors and developers who trade their real estate assets, including Panattoni, Blackstone, Hillwood and 7R.[30]
Quality of warehousing facilities
More than half (54 percent) of the warehousing and industrial space in Poland was built in the last five years[31] and the oldest warehouses (only 11 percent of the total) are just over 15 years old[32].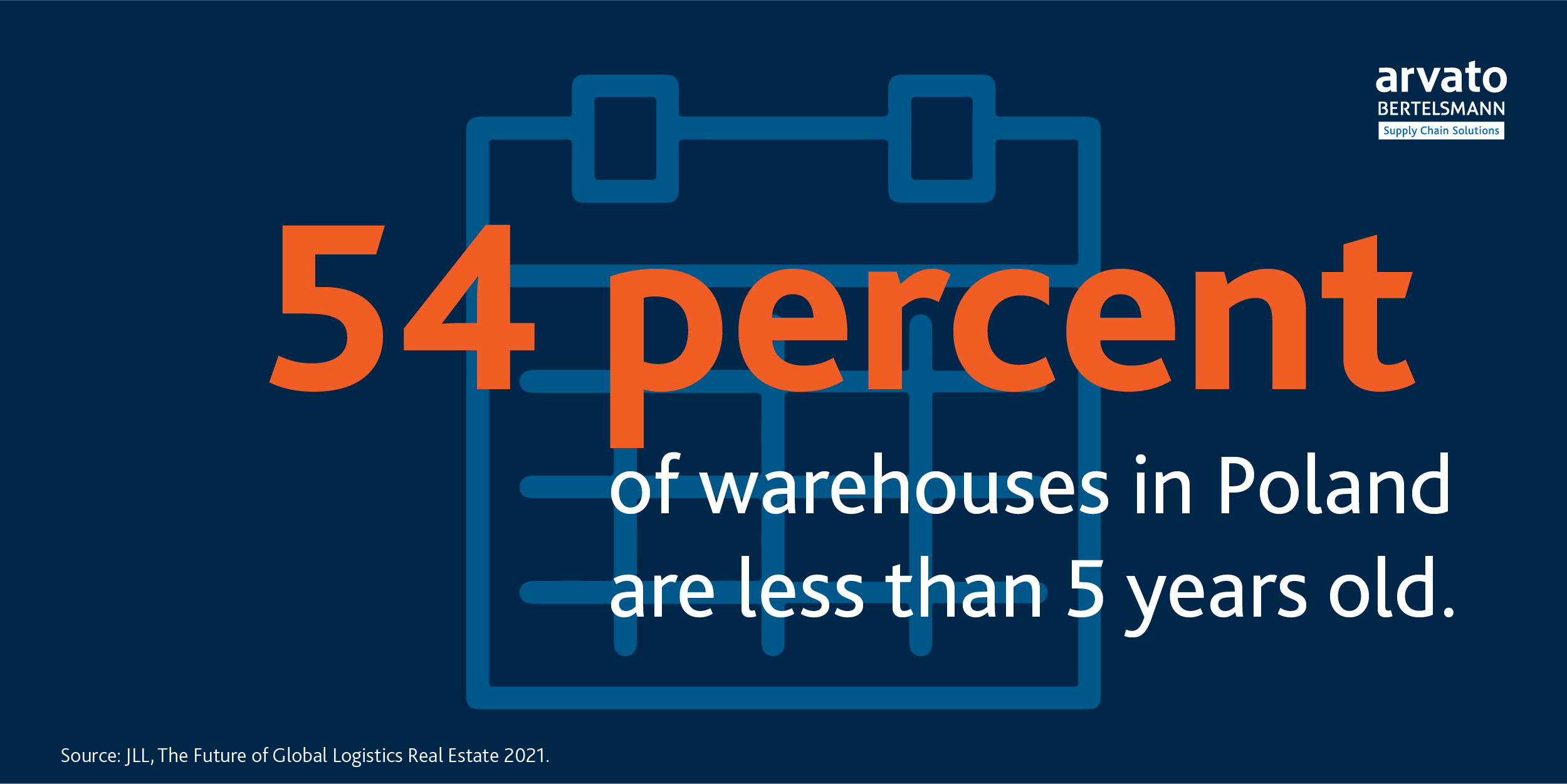 The number of new green warehouses is increasing, featuring, among other things, energy-efficient LED lighting, which is an absolute standard in Poland; systems that improve energy efficiency, i.e. thermal insulation or photovoltaic panels; water purification solutions (e.g. grey water recovery) and motion or daylight sensors. According to the U.S. Green Building Council, the maintenance costs of newly constructed certified facilities are on average 20 percent lower compared to ordinary commercial buildings, and this is the direction in which investments in Poland are heading.
Clients and tenants also have such expectations, understanding the significance of cost savings, while the developers themselves treat investments in sustainable facilities as part of their image policy. Consequently, BREEAM or LEED certification of new buildings is becoming standard. Virtually every new Class A building under construction is being adapted to meet the standards of the aforementioned certificates.
Prices of raw materials
According to Eurostat data (Q1 2022), the average electricity price in Poland was lower than in most countries in Europe, at EUR 134/MWh (compared, for example, to the Czech Republic, Slovakia, Hungary and Romania, where the price fluctuated around EUR 500/MWh).[33]
Labour costs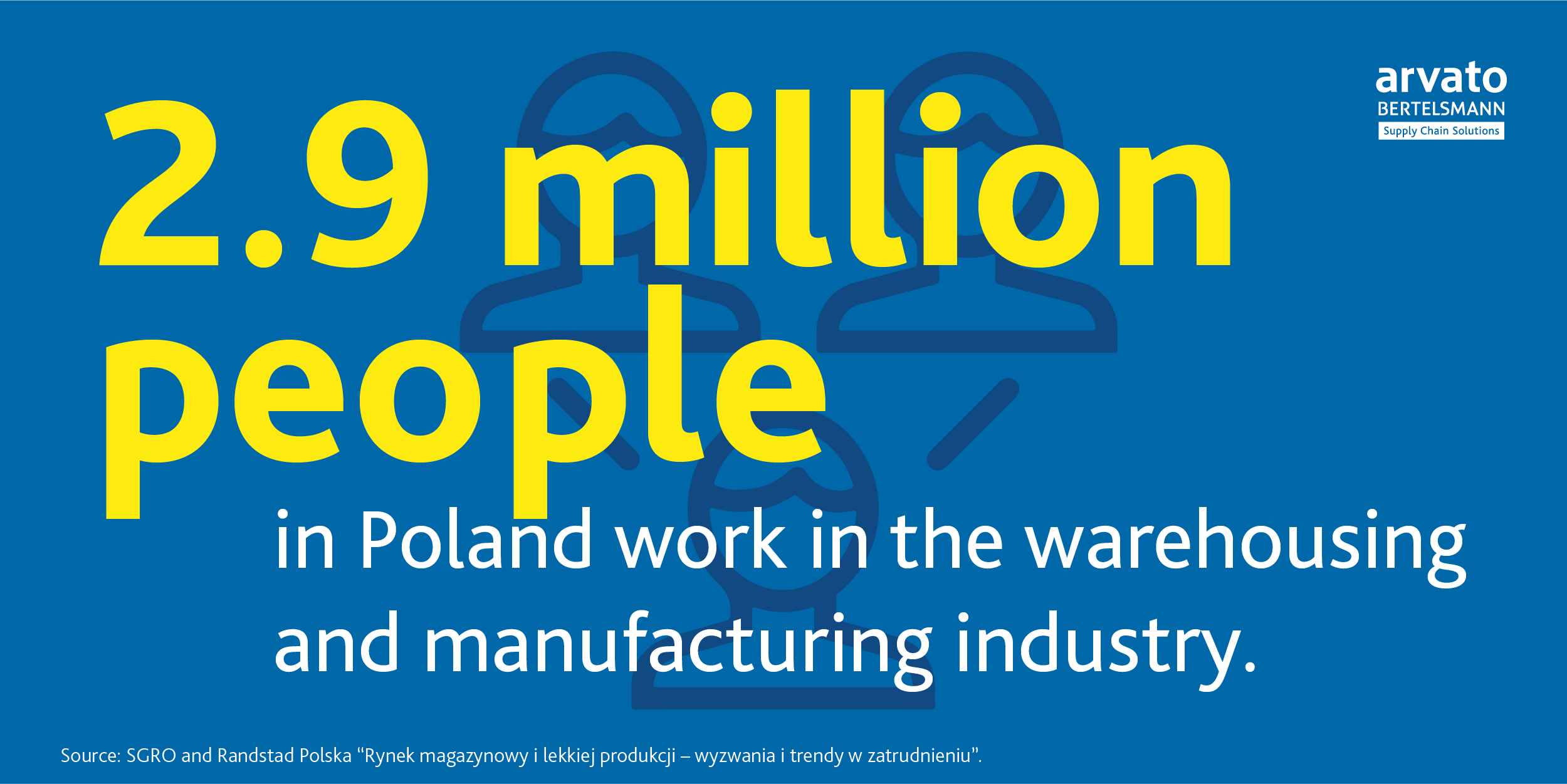 The average wage in the transport and logistics sector is PLN 5,000, which is lower than the average for the entire business sector (which is PLN 5,900). This amount means an hourly rate of PLN 41 before tax, compared to PLN 48 for the economy as a whole.[34] .
The minimum wage in Poland at present is EUR 655, which places our country in the top ten EU countries with the lowest wages. Bulgaria has the lowest minimum wage (at EUR 332), followed by: Latvia (EUR 500), Romania (EUR 515), Hungary (EUR 542), Croatia (EUR 624), Slovakia (EUR 646), the Czech Republic (EUR 652) and Estonia (EUR 654).[35]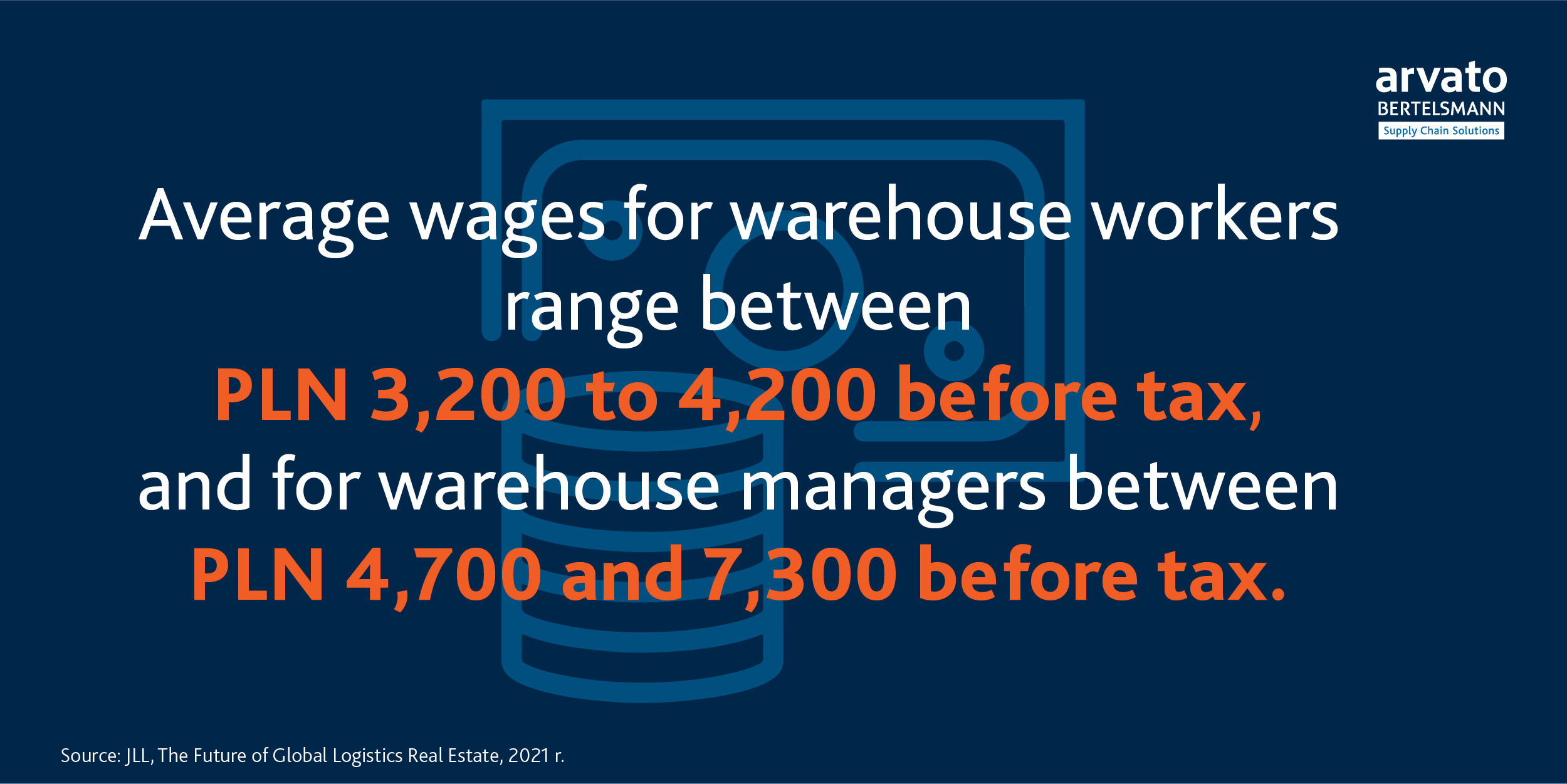 Thanks to the influx of people from Ukraine (between 2 and 3 million persons according to various sources), the labour market prospects have improved significantly.
Labour law
In Poland, working time must not exceed 8 hours per day and an average of 40 hours in an average 5-day working week. Different working time regimes are allowed by labour legislation. They vary in terms of working hours per day, settlement periods and other system-specific features. Working time systems can be selected and implemented by employers according to their needs.[36]
Labour law provides for work in overtime when it is properly accounted for in line with the applicable laws. Overtime should be occasional, which means that the employer cannot schedule it and the need for it should generally arise on the same day on which such work is performed.[37]
According to a report by the Manpower Group, in the logistics business, diverse flexible forms of employment are popular. They account for 10 to 30 percent of the companies' total employment.[38] Thanks to temporary work schemes with flexible terms the logistics industry is able to respond quickly to increases in demand in the sector.
Education
Poles value education and take a systemic approach to improving their competences. According to the Central Statistical Office, as many as 30 percent have a university degree, and 55.5 percent have secondary education.[39]
In the 2020/2021 academic year, 42,000 students will be studying subjects related to the TSL sector at Polish universities. In turn, as many as 71 thousand students continue their vocational training in this area in technical and vocational schools.[40] These figures show that companies that intend to run their logistics operations and invest in Poland can count on young qualified staff in their fields of interest.
Summary
According to the "Logistics in Poland" report, companies operating in the field of logistics are satisfied with the condition of their sector in Poland.[41] Logistics operators who have their headquarters in our country and manage their operations from here are recording year-on-year increases in their revenues.
Key players that have decided to operate in Poland include Amazon and Zalando. Amazon already has 10 logistics centres, three Technology Development Centres and one Amazon Web Services centre, where it employs 25,000 people on a permanent basis and 28,000 people in cooperating companies. Zalando, in turn, has expanded to 4 logistics centres, while a further two warehouses (in Bydgoszcz and Białe Błota) are currently under construction. As many as 4,000 people will find employment there.
Our country's excellent location, numerous road investment projects, good education of Poles', the steady growth of the workforce, the relatively low labour costs and favourable labour legislation, as well as a rapid increase in warehousing space of high quality[42] – All of these factors clearly make Poland an attractive partner for locating investments and operations centres, as well as for setting up or relocating business services.
CONTACT US: zapytania@arvato-scs.com 
[2,3] https://grantthornton.pl/publikacja/inwestycje-zagraniczne-w-polsce-dlaczego-warto/
[4] https://www.gov.pl/web/gddkia/od-20-lat-dbamy-o-utrzymanie-i-rozwoj-infrastruktury-drogowej-w-polsce2
[5] https://www.gov.pl/web/gddkia/aktualna-statystyka-drogowa
[6] https://300gospodarka.pl/news/polska-postawila-na-drogi-ostatnie-lata-to-gwaltowny-przyrost-autostrad-i-spadek-dlugosci-sieci-kolejowej
[7] https://polska-morska.pl/2022/02/14/polskie-porty-morskie-w-2021-roku/
[8] https://intermodalnews.pl/2022/04/20/polskie-porty-coraz-bardziej-intermodalne/
[9] https://www.portalmorski.pl/porty-logistyka/46824-rozpychamy-sie-nad-baltykiem-rosnacy-potencjal-polskich-portow
[10] https://300gospodarka.pl/news/linie-kolejowe-w-polsce-dlugosc-dane
[11] https://www.cire.pl/artykuly/serwis-informacyjny-cire-24/kolej-podaje-dane-o-przewozach-towarowych
[12] https://www.logistyka.net.pl/aktualnosci/item/92464-przewozy-kolejowe-w-2021-roku-towarow-wiecej-niz-przed-pandemia-pasazerow-mniej
[13] https://intermodalnews.pl/2022/04/20/polskie-porty-coraz-bardziej-intermodalne/
[14,15] Road transport in Poland 2021+
[16] https://www.cargopedia.net/europe-fuel-prices
[17] https://markethub.pl/rynek-automatow-paczkowych-w-polsce/
[18] "The KEP market in Poland. Facing trends and new challenges", GS1 Polska
[19] Report on the state of the postal market, 2021, UKE
[20] Newmark Polska, for: https://trans.info/pl/polski-rynek-magazynowy-rozbudowuje-sie-jak-szalony-291358
[21] https://obserwatorlogistyczny.pl/2022/05/25/cbre-polski-rynek-magazynowy-w-pierwszym-kwartale-kontynuowal-dynamiczny-rozwoj/
[22] Newmark Poland
[23] Polish warehouse market in Q1. 2022, Axi Immo
[24] https://docs.colliers.pl/reports/Raport_7R_Colliers_Polska_Branza_Logistyczno_przemyslowa_2022.pdf
[25] Polish warehouse market in Q1. 2022, Axi Immo
[26] https://docs.colliers.pl/reports/Raport_7R_Colliers_Polska_Branza_Logistyczno_przemyslowa_2022.pdf
[27] https://www.rynekinfrastruktury.pl/mobile/popyt-na-magazyny-w-polsce-wschodniej-na-stabilnym-poziomie-75917.html
[28] https://docs.colliers.pl/reports/Raport_7R_Colliers_Polska_Branza_Logistyczno_przemyslowa_2022.pdf
[29] CBRE Q1 2022
[30] https://docs.colliers.pl/reports/Raport_7R_Colliers_Polska_Branza_Logistyczno_przemyslowa_2022.pdf
[31] https://eurobuildcee.com/news/51784-magazyny-sie-buduja-czynsze-rosna
[32] JLL, The Future of Global Logistics Real Estate, 2021.
[33] https://ec.europa.eu/info/sites/default/files/energy_climate_change_environment/quarterly_report_on_european_electricity_markets_q1_2022.pdf
[34] Road transport in Poland 2021+
[35] https://forsal.pl/praca/wynagrodzenia/artykuly/8346076,placa-minimalna-2022-w-europie-unia-europejska-stawki-mapa-eurostat.html
[36] https://nowy.inforlex.pl/dok/tresc,D07.2021.102.000000100,Czas-pracy-2022.html
[37] http://www.kodekspracy.pl/artykul,196,18101,ustalanie-godzin-nadliczbowych-i-ich-rekompensowanie.html
[38] https://www.manpowergroup.pl/wp-content/uploads/2021/05/Raport-Logistyka-w-Polsce.pdf
[39] CSO, Results of the National Census 2021
[40] Road transport in Poland 2021+
[41] https://www.manpowergroup.pl/wp-content/uploads/2021/05/Raport-Logistyka-w-Polsce.pdf
[42] https://docs.colliers.pl/reports/Raport_7R_Colliers_Polska_Branza_Logistyczno_przemyslowa_2022.pdf